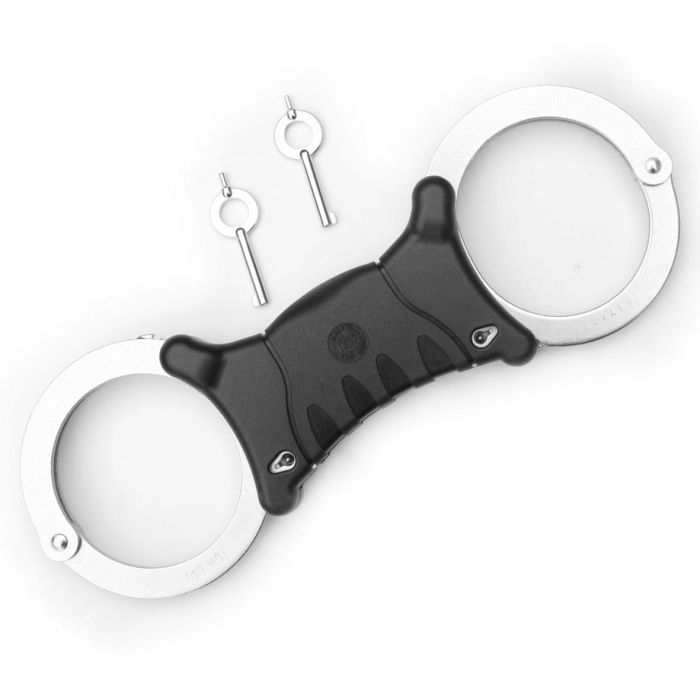 SKU TCH840
In stock
TCH840: The latest in - Total Control Handcuffs by TCH. Rapidly becoming the standard forces issue - this is a... - Read More
Details
TCH840: The latest in - Total Control Handcuffs by TCH. Rapidly becoming the standard forces issue - this is a replacement for the Hiatt Speedcuff which are no longer available.
Total Control Rigid Handcuffs have a moulded grip that fits snugly in the hand and provides greater control with speed of application.
Features:
3 independently moving ratchet bars, with 6 teeth on each bar. The total of 18 teeth provides 25 locking positions and 17% larger internal circumference than standard models
Rotating arm backloads for speed cuffing
Precision engineering ensures rotating arm swings through the handcuff, engaging the ratchet bars every time
Double locking mechanism
Two standard keys are provided with each Handcuff
Full Compliance with N.I.J Standard 0307.01
More Information
| | |
| --- | --- |
| Weight | 0.420000 |
| Colour | Silver |
| Brands | TCH |
| upc | 5060268021693 |
Reviews
6
Customers reviews
Wasim

TCH Rigid Handcuffs

Great handcuffs and a speedy delivery. Would highly recommend!!!

Hutchinson

TCH Rigid Handcuffs

Very good

Rhys

TCH Rigid Handcuffs

Very good set of rigid cuffs. Would highly recommend!

Bearded Mike

TCH Rigid Handcuffs

Excellent cuffs. Quick and easy to apply.

joris thonne

these are probably the best rigid handcuffs i have ever carried . highly recommended

Wez

Very good handcuffs. This is the standard handcuff model used by the police force. Ex-police decomissioned models are all fine but there's no substitute for having a brand spanking new, perfect condition, not a scratch on them, new handcuffs. I can speak from experience as I have ex-police ones with the serial ground off and brand new from here.

Highly recommended if rigid cuffs are what you want. Although I think TCH should make a hinged cuff for the police force in this length, to maintain security and control of suspects while creating more comfort potential especially in non-stacked positions.