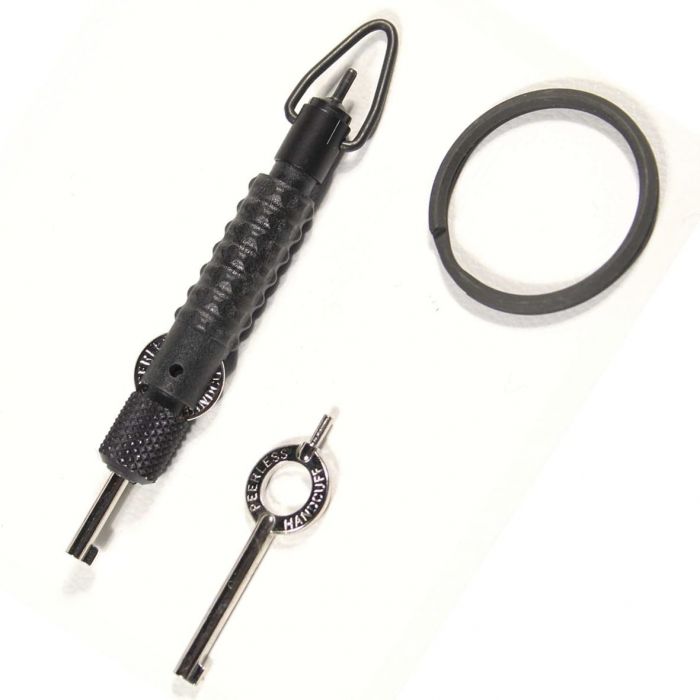 Zak Tool Extension Cuff Key Holder

SKU SK11
In stock
SK11 Zak Tool Extender for Standard Issue Handcuff Keys Standard issue handcuff keys are made specifically for your model of handcuffs... - Read More
Details
SK11 Zak Tool Extender for Standard Issue Handcuff Keys
Standard issue handcuff keys are made specifically for your model of handcuffs and 100% guarantee compatibility. Unfortunately beacuse they are quite small they can be quite fiddly to use, especially when wearing gloves in the cold weather. Zak tools have now released their key extender. This device enhances the use of the original handcuff key with a longer shaft and a swivel design which allows the operator to manipulate the key by rolling the barrel between the thumb and forefinger while still retaining the double locking pin on the back of the key.
Each SK11 is made from lightweight carbon fibre and comes complete with a strong 40mm split ring and two standard issue peerless handcuff keys, installing either of them or your own key is quick and easy, unscrew the cap and remove the retaining pin by pulling on the cap, then reverse the process. This will require moderate force, we suggest a small pair of pliers.
Spec
Made from carbon fibre
Extend the life of your standard cuff key
Includes 40mm split ring
Includes 2 peerless standard issue cuff keys
Retains the use of double locking pin
More Information
| | |
| --- | --- |
| Weight | 0.020000 |
| Colour | Black |
| Brands | Zak Tool |
| upc | 5060268021006 |
Reviews
6
Customers reviews
David

Zak Tool Extension Cuff Key Holder

Excellent product. Does the job and is easy to open the cuffs. Very tough and usefull

Golan

Zak Tool Extension Cuff Key Holder

My friend said they are great so im gonna order as well

S.B

Zak Tool Extension Cuff Key Holder

Previously order a long key from amazon but the key face was too small and kept snagging in my cuffs. This one comes with spare keys and you can put your own original keys into it. Decent size, well made and easy to use.

David Parkinson

These are well worth having removing cuffs using these cuff keys are so easy and well worth having.

Josephine

These are absolutely amazing. Wish I bought these ages ago. No more struggling with my cuffs. Nice and sturdy, easy to grip. I truly recommend these.

Chris

This is very good value for money. In addition to the extender itself, you get two Peerless branded handcuff keys, one of which is pre-fitted to the extender. This has a pin which goes through the key bow, so the key can't fall out even if the collar works loose.

I find the single piece "pen" keys easier to use, but this is a good alternative - especially if you already have Peerless cuffs.