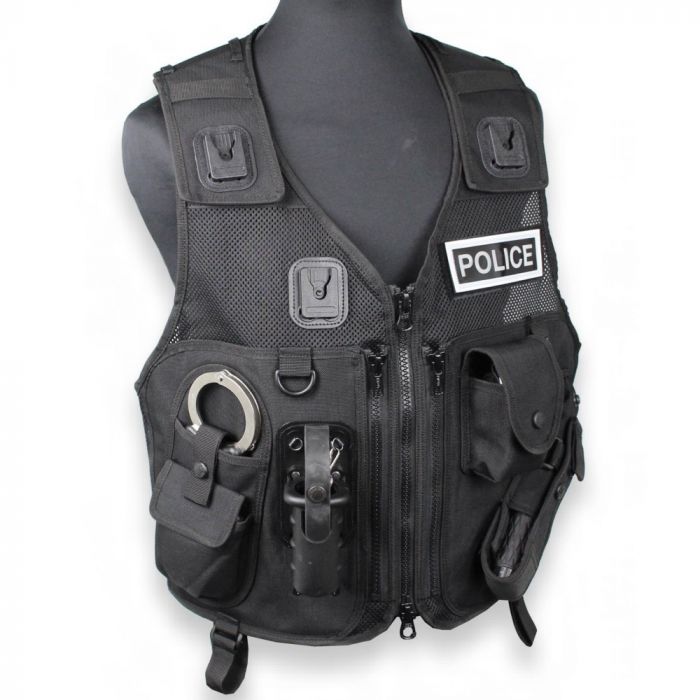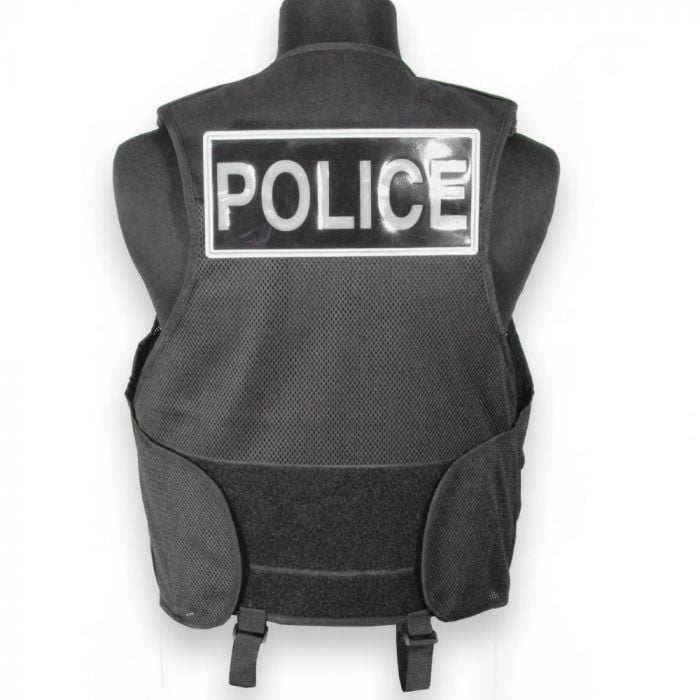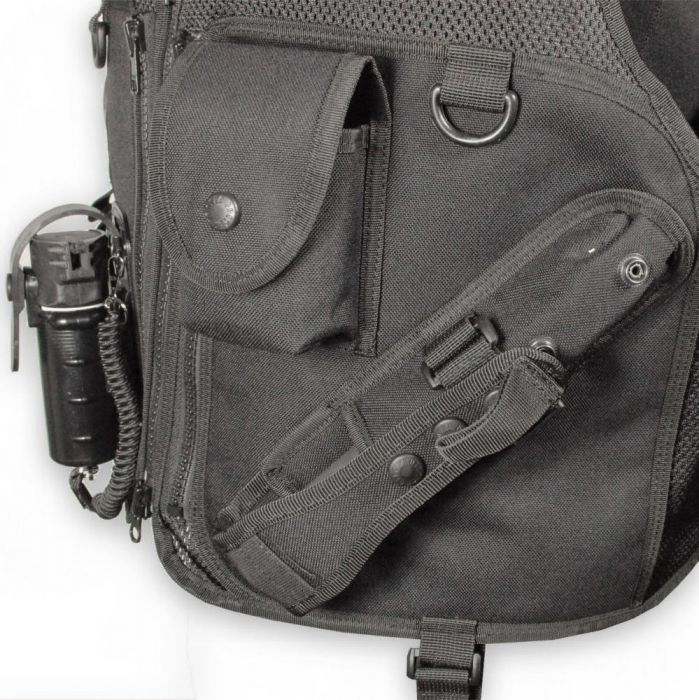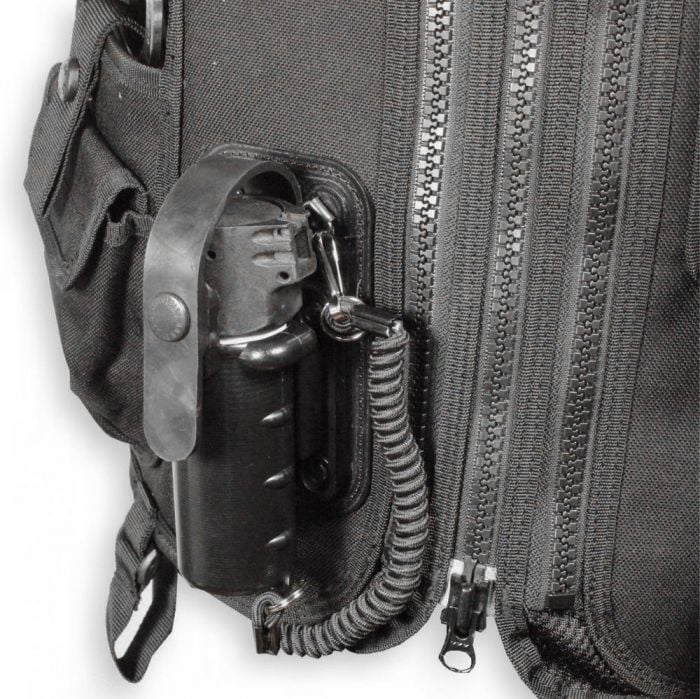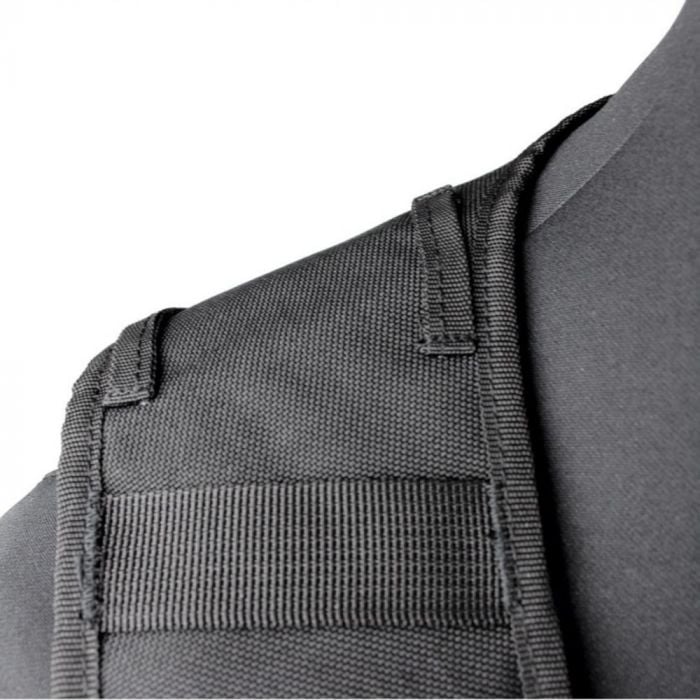 Protec tactical vest with Peter Jones CS spray and BWV dock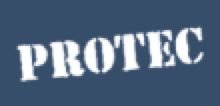 SKU TVSBN2CS
Only %1 left
Out of stock
The Protec tactical duty vest has been developed to meet the needs of todays modern police force. Using a combination... - Read More
Details
The Protec tactical duty vest has been developed to meet the needs of todays modern police force. Using a combination of lightweight breathable mesh and strong 1000D it offers the best of both worlds, long lasting toughness and lightweight comfort. The advantages of using a tactical vest over a traditional belt system are apparent the instant you put it on, taking your equipment from the belt, distributing the weight evenly across the body hugely reduces the strain on your lower back whilst out on patrol.
Due to huge demand this model is now produced with a chest mounted klickfast compatible dock for body worn CCTV and the addition of the Peter Jones detachable CS holder. This holder is now force issue and even mandatory in some UK police forces. Every Protec vest has been developed in the uk using valuable feedback from operational police officers and security staff, our ergonomic design ensures every piece of your equipment is right where you need it, when you need it most.
Spec
Now featuring the P175 Peter Jones CS Spray holder
Chest mounted dock for body worn CCTV or BWV camera
Handcuffs with utility pocket
1000D Balastic nylon by Dupont
Genuine airwave Tetra radio docs on both shoulders
CS spray holder suitable to Hold Peter Jones Unit
Baton drawn down for quick access
Velcro adjustable shoulders and sides for maximum adjustment and comfort.
Small pouch suitable for limb restraints
Two D Rings for attachments - lanyards
Two large zipped pockets behind equipment panels
Select badge required or clear badge holders for your own badges.
More Information
| | |
| --- | --- |
| Weight | 0.000000 |
| Colour | Black |
| Brands | Protec |
| Size Chart | Protec Vest Size Chart |
Reviews
4
Customers reviews
Nick

The belt alternative to a belt

I found myself struggling with wearing a kit belt due to the back strain it was causing me, as well as just general manoeuvrability trying to get into tighter spaces (or just getting in and out of cars!).

My force issued me a lovely hi-vis vest which was made by Niton999, which lasted a grand total of 5 shifts and 2 roll arounds before the seams split along both of the front zipped pockets - a common problem I was told by uniform stores.

We rely on our kit to keep us safe - I had no confidence in Niton's product, so decided to source my own replacement.

This vest was one of the more expensive choices I found (with the exception of going for Molle), but had a few advantages over the cheaper alternatives. The extra dock is really useful for attaching a little light, and the Peter Jones dock is so much quicker/easier to draw in a scuffle than faffing with a pouch.

The main thing is that I've been wearing it daily for 3 months now, and it looks as good as the day it was new. The vest feels well made and I'm sure it was last me years.

The only thing of note, is that the epaulette holders shown in the pictures didn't come with my vest - if you have the slider style of epaulette, these are a necessity. A quick email to customer service and they were sent out to me 1st class the same day at no charge.

I'm very happy with my purchase and with Police Supplies.

Jay

Protec tactical vest with Peter Jones CS spray and BWV dock

This is an excellent investment. Duty belts give me lower back pain after being worn for a period of time which can have terrible effects over the long term.

Your kit is also less secure on a belt and there are issues entering and exiting vehicles with things opening or falling out.

To address a point raised by another reviewer - the retaining strap on the Peter Jones Unit is rubberised because leather is not machine washable and would degrade.

Luckily my Force allows us to wear our own vests. The numerous safety issues connected to belts are just not worth it.

RL

Really good, but let down by some minor annoyances

The good:
- Cuffs are secure and easy to draw
- Convenient glove pouch just below the cuffs
- Peter Jones CS/PAVA holders are fantastic and much easier to draw one-handed compared to the alternatives
- Loads of adjustment available for the baton pouch including a longer retaining flap which can be swapped out for the standard one
- Easy access to leg restraints
- 3 Klickfast compatible docks so you can have BWV, radio and another item such as a torch all chest mounted (these docks aren't actually Klickfast brand but seem just as well made)
- I got the blue police badges which are very reflective
- Zipped pockets have plenty of space


The bad:
- The retaining strap on the CS holder is made from what looks like rubberised plastic rather the (better imo) leather seen on other peter jones units
- Key clip loops are in awkward positions. The one on the right side is in the perfect place to foul the CS holder and cause issues with drawing and replacing. The one on the left side is difficult to reach with your right hand because the keys will be obstructed by the leg restraints. The right clip is not too much of an issue if you just keep your cuff key there as it will tuck into the handcuff pouch.
- The rear badge is sewn on unlike the front badge which is Velcro
- The epaulettes are not as shown in the picture, they are the style with the two horizontal loops, so users of slider epaulettes will need a blank "button style" epaulette as an adapter
- There are no dividers in the zipped pockets, so good luck if you keep pens in there

Overall, a good purchase. The issues in the "bad" section are more annoyances than anything else, and I would say the addition of the Peter Jones PAVA holder makes this the only sensible choice vest-wise aside from MOLLE.



Joshua

Absolutely worth it

A brilliant tactical vest! Much better than standard issue kit. Would never go back to a belt again.
Size Chart
Size Chart
| | | | | |
| --- | --- | --- | --- | --- |
| Size | Small | Medium | Large | X-Large |
| Chest Size (in) | 28 - 38 | 36 - 46 | 46 - 50 | 50 - 56 |