- 11%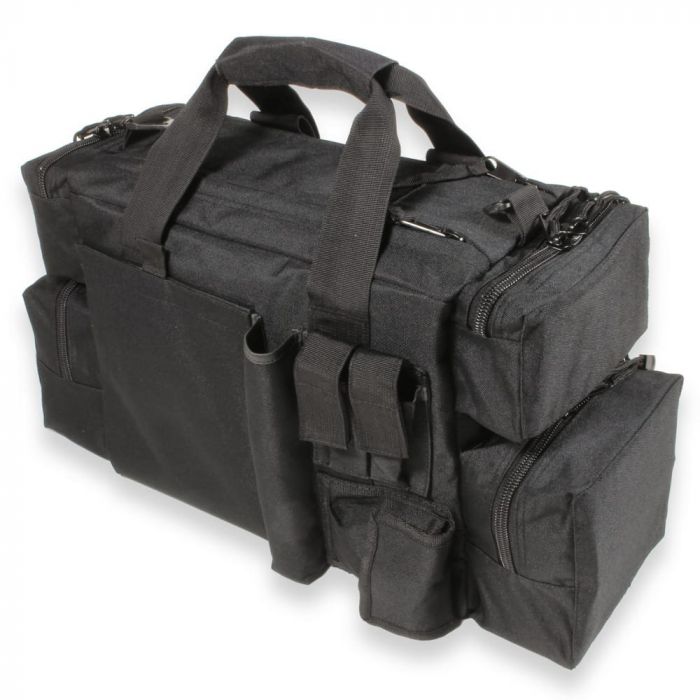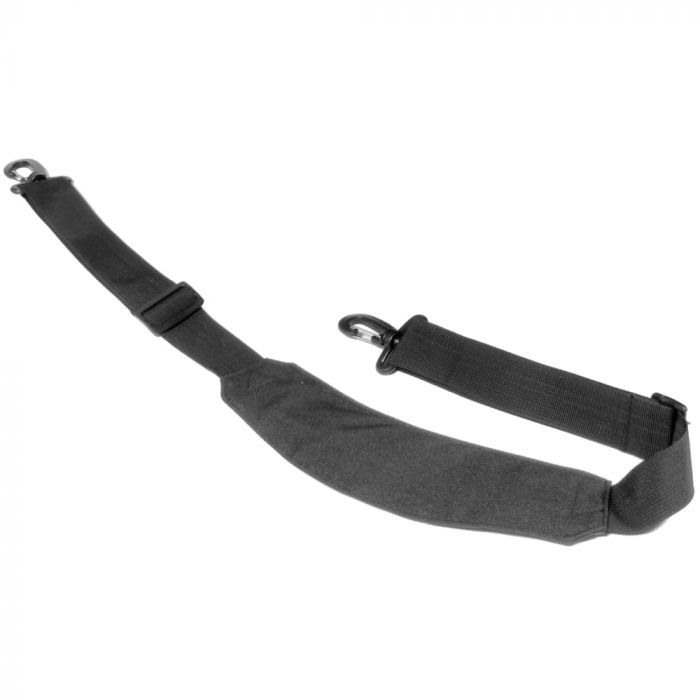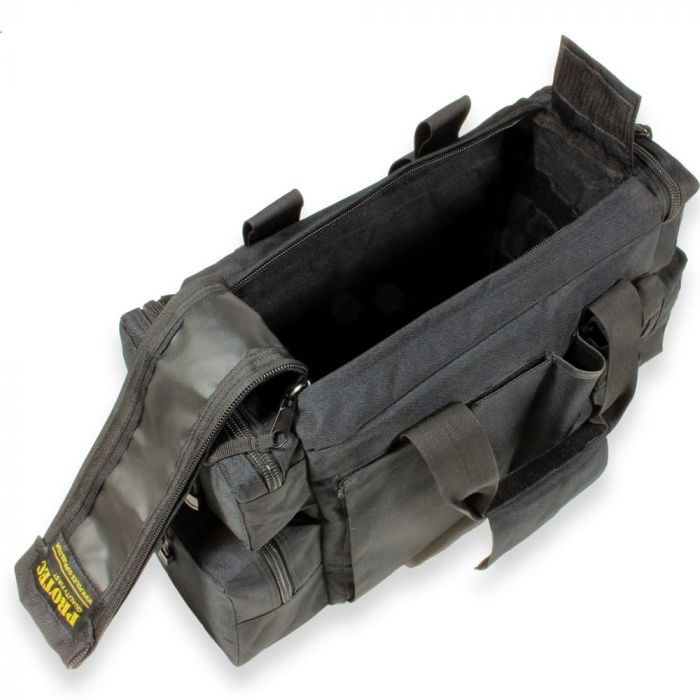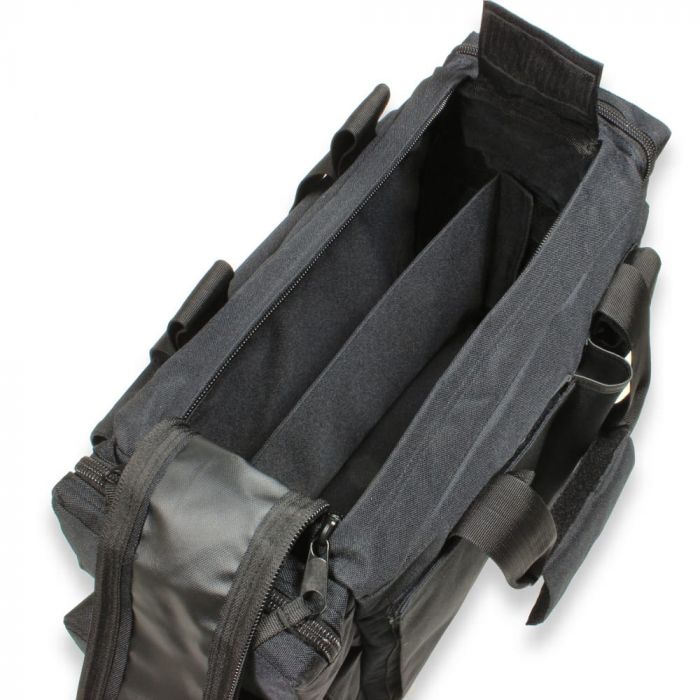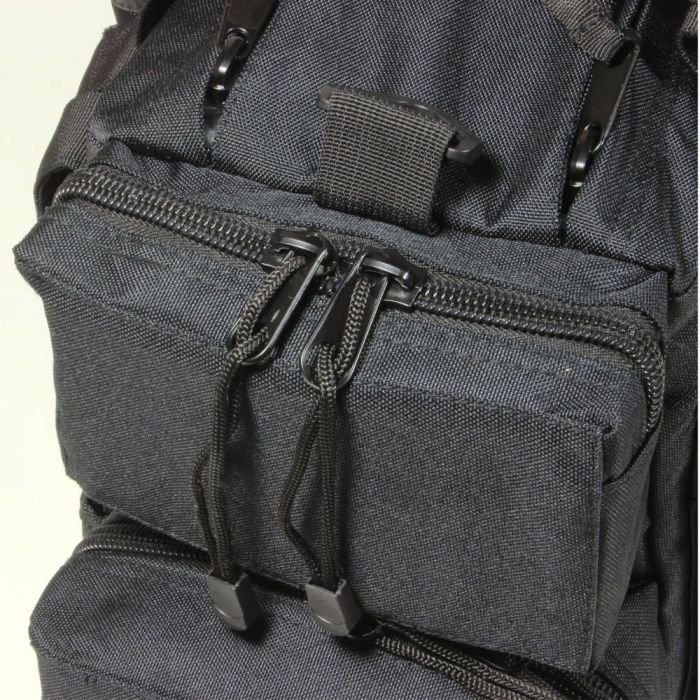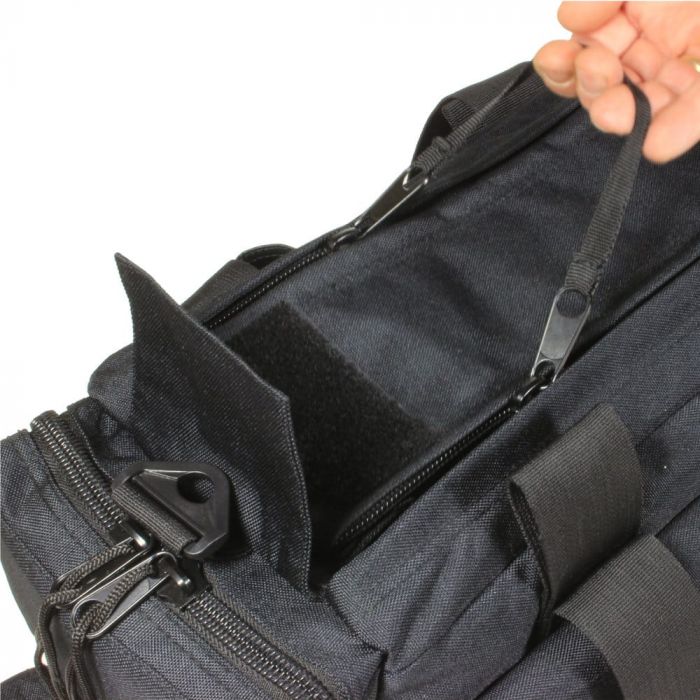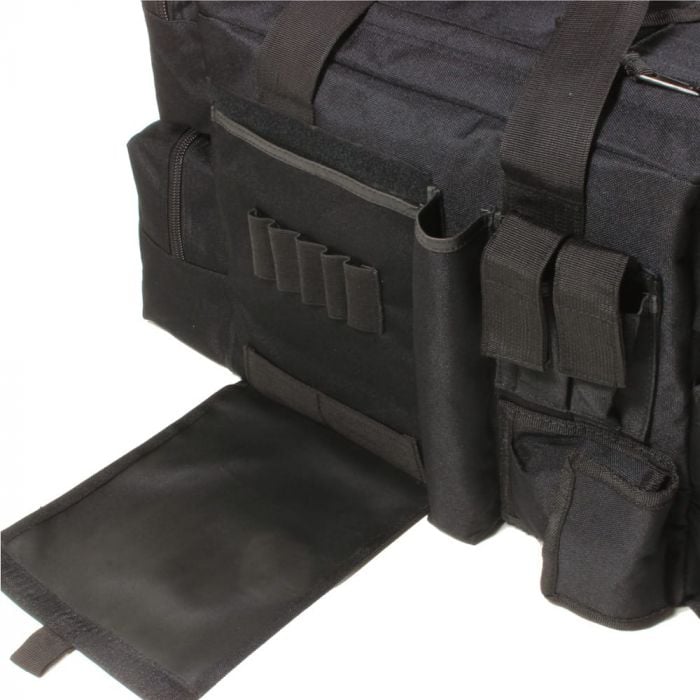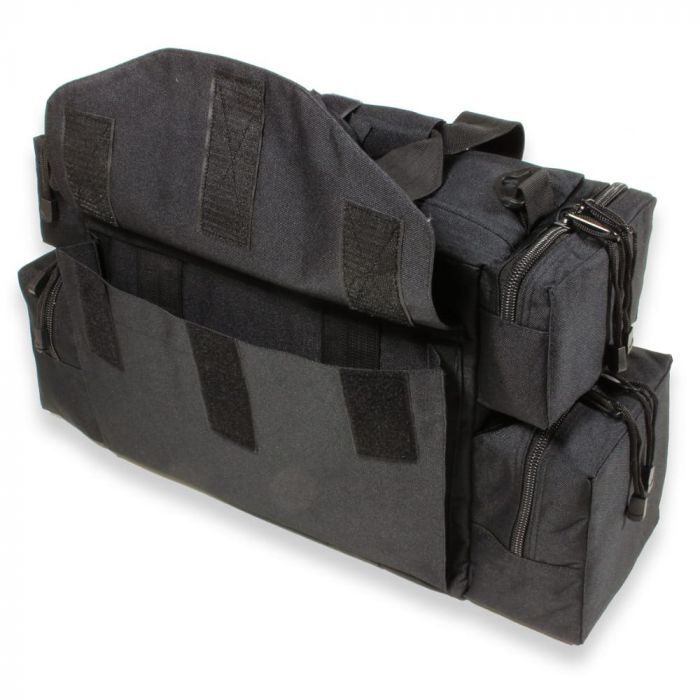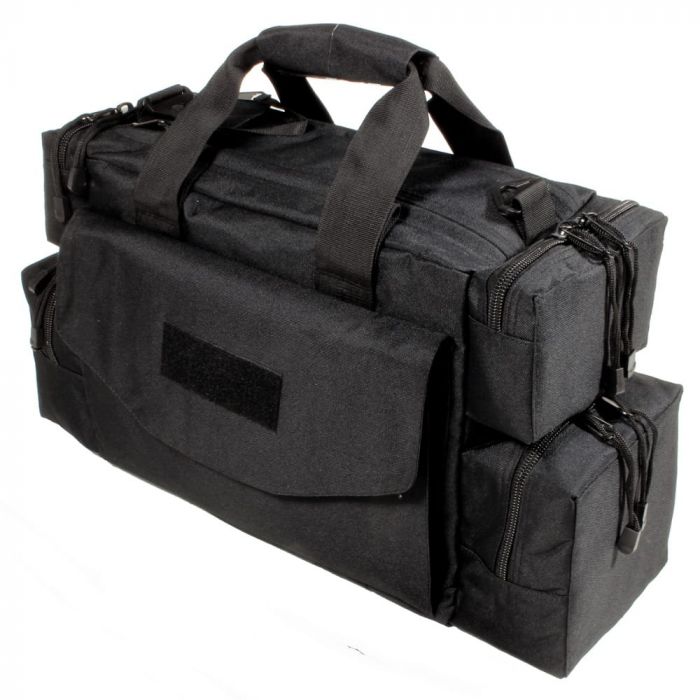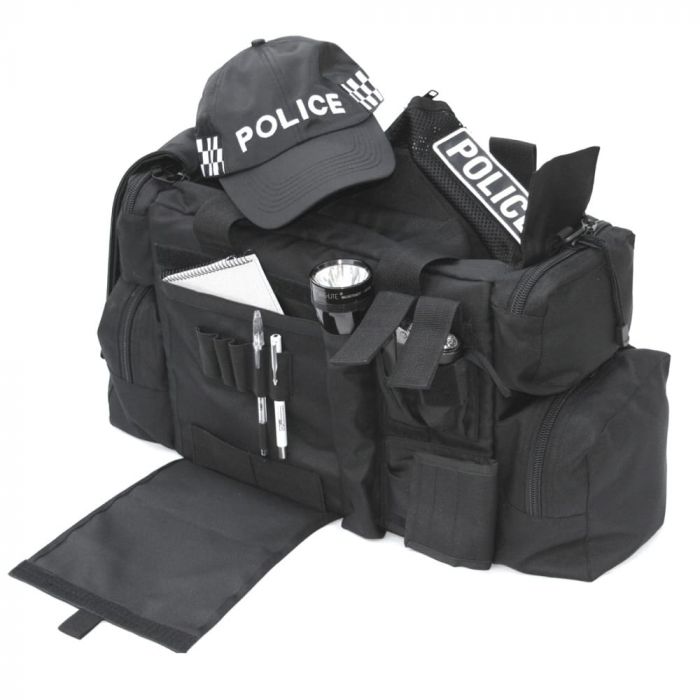 M24 Protec Police Patrol Bag
SKU M24
In stock
M24 Protec Patrol Bag Compact in design, water resistant and sturdily made from tough 1200D material. The M24 patrol... - Read More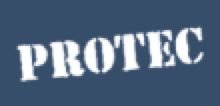 Details
M24 Protec Patrol Bag
Compact in design, water resistant and sturdily made from tough 1200D material. The M24 patrol bag was built to manage your essential paperwork or equipment on the move. It has two grab straps and a shoulder strap with steel fittings. The main compartment has a removable velcro divider and opens with a linked dual zip allowing quick and easy accessibility to the whole compartment without having to dig through your gear. Outside it has four zip pockets each lockable with dual zips, with another 3 velcro pockets and a maglite holder suitable for up to 3x Dcell maglites. It's unique design feature is a flap that folds down from the pen slot area, giving you a flat area for notes. 
Using the latest in transfer technology your M24 bags can be customised with police,  your force, collar or ID number, just add which print service you would like to your shopping basket  along with your M24 bag.
Tech Spec
Made from tough 1200D nylon
Dual top zip
Internal divider
8 external pockets
Size 60 x 20 x 30cm
Contents pictured for illustration purposes only.
Additional Information
For Printing go to Printing In the Bag Printing Section.
Designed for Professionals by Professionals
More Information
| | |
| --- | --- |
| Weight | 2.900000 |
| Colour | Black |
| Brands | Protec |
| upc | 5060268022959 |
Who Bought This Also Bought
Customers reviews

M24 Protec Police Patrol Bag

Really good, well made bag. lots of zipped compartments

M24 Protec Police Patrol Bag

Excellent

M24 Protec Police Patrol Bag

A must have for any new student officer. It holds all your waterproof that going to need when on scenes and enough pockets for paperwork,tags, evidence bags and tape. The most important thing is you have space left to carry you lunch. It's a nice and neat bag to carry to the car/van while out on duty.

I have been using this bag now for a couple of months and I am over the moon with it. I am able to carry everything I need for response duties such as my hi vis jacket, 2 pairs of waterproof trousers, hat, traffic book and all my warm kit and paperwork. I had been debating getting this bag for a long time as I wasn't sure it would be big enough however it holds everything I need and fits into vehicles alot easier than the bag I was issued which was far bulkier. I have also had a lot of positive comments from colleagues. Best bit of kit I ever bought.

I have been using this bag for 2 months now and it is great - I used to have a larger bag but realised this was too bulky for most of the patrol cars so I opted for a smaller bag.

I have a clipboard with statement papers, all forms I use, traffic wallet, box of gloves, evidence bags, spare torch, spare cables, keyboard, my cap, scene tape all in the central compartment.

The two zippable compartments on either side are big enough for jackets - so my high viz traffic jacket is in one and my black fleece is in the other. the two compartments are ample enough for other stuff you need to keep with you.

last of all the printing is really professional looking but I recommend the one with POLICE on it as well.

My last two bags havent lasted a year due to me keeping so much in them both so I hope this one is more sturdy and withstand the beating it gets on a day to day basis!

I have had this bag for two years now and it's great. I carry everything I need for Response Team duties inside it, I get a lot of comments from people asking me where I got it from and I send them straight here. Unfortunately my bag has ripped on one of the compartments, I only noticed the other day so I'm going to have to get it replaced in the not too distant future.

I store paperwork, clothes, extra kit and more in this bag with no problems. It'll comfortably fit in the boot of all patrol cars.

Bag arrived yesterday, good size although disappointed that the side pocket isn't big enough to put my traffic book in it. Only just fits all my equipment in. Wish it was a few inches bigger

<h5>m24 bag</h5>Great bag had it for over a year, can fit all traffic ticket books, MG11s etc all in, very tough and has not broken yet and if you get it with your collar number on it does not get stolen from the locker room.

<h5>the best patrol bag</h5>excellent bag, well made looks professional and holds everything you need from helmets to folders.great value too! cant fault it.

Great bag

Highly recommended to all patrol officers. As a supervisor I carry all the paperwork required by patrol officers and then some, scene logs, search records etc. I carry all this and scene tape, light weight High-vis and water poof trousers.

This bag is the perfect companion and is just the right size for the bottom of your locker and foot well of the car.

Best choice of patrol bag!

After doing a few hours of reviewing all the different patrol bags out there and initially being disappointed cos the op zulu one was out of stock for like a month (cos that was the one that everyone in my station had) I settled on this one as a second choice. But i'd say it should always have been a first choice now! When it arrived I thought it looked a lot smaller than I imagined it would be (or small compared to the op zulu one just) . But as a senior con pointed out to me...who wants a pet brick?!? I was able to fit everything I needed into it, patrol folder, FPN's, diary, evidence bags, waterproof trousers, paperwork and all the mini bits and bobs found a home nicely. I read that some people found the big pockets on the side pointless, but I found them really handy and now i've compared my bag to the op zulu one, i think the M24 is def the better designed one by far. It looks a lot better, tidier looking, more compact and more professional in my opinion. Its also a better size, cos as my colleague rightly says, who needs a pet brick! the op zulu ones are a bit too big for my liking in hindsight and direct comparison. I lay my hi-vis on top of the bag and fold the straps over it. I could put my hat in it if i want. but you need your hat close to hand anyway so i don't really need anymore room. So my advice would be if you are a response officer looking for an everyday patrol bag, I know the bestseller seems to the the op zulu one, and the one that I certainly saw most people carry. But I would recommend this one as it has more than enough space and is a tidier, better designed patrol bag that fits everything you need in it, for very good value. Also having your number printed on the side for free means it looks professional and won't get mixed up with someone elses! Great service, fast delivery!

M24

Excellent robust patrol bag, holds statement folders. FPNs etc, coat, hat, gloves and sat nav with some room left over and extra pockets. Service was excellent, bag ordered online late on a Wednesday and delivered with shoulder number printed on the Friday.

Excellent bag for patrol

This is an excellent bag. I've tried the M25 in the past but that's more of a storage / PSU bag. The M24 is ideal for those who primarily work in vehicles and need to take FPNs, MG11s, other paperwork and bits of kit with them. It doesn't fit a high vis and a hat that well but I don't think it's meant to. However in the case of the other stuff we carry it's great - It's a bag for day to day kit in the car, not for taking uniform etc. to work, see the M25 for that.

As for the side pocket on it's side that some are suggesting is no good, it's ideal for the tubes used on the new style digital breath test kits.

Really good quality. Ordered mine on a Tuesday and it turned up on a Thursday, very fast delivery including having printing done on the side of it. Highly recommended!

M24 bag

M24

I migrated to this bag having found that the M25 was too large for daily use. The M24 Bag however is just the right size I can get all my gear in, flat cap files paper work, FPN folder, GPS, torch & gloves. Some have commented that they cannot get their helmet in the bag. If you're going to wear your helmet then you're going to be on foot and would not be carrying your bag. For use as a patrol officer in a panda its ideal. The bag is well made with robust material which keeps its shape well and protects the contents therein.

For the manufacturer; the wide pocket on the side of the bag which fits an FPN folder could be just a tad roomier. Once you have an FPN folder fully loaded with tickets it's quite a squeeze to get it into the pocket. On the other side of the bag are two very weird pockets. One which is on its side! Why? The last place I would put anything would be in such a pocket, unless I wanted to loose it. The other pocket with two straps, what's that all about? On getting the bag I removed the two pockets immediately and have not yearned for them since. I would like to see in the place of these two pockets a single big pocket the height of the bag with flap which could be used to stuff thing into, possibly with enough room to get a full PNB folder into. I also removed from the bag the Velcro strap from the handle which keeps the bag handles together. I replaced this with a nylon duty belt keeper which with studs was quicker and less fiddly to open and close, as I use the handle to keep my fluorescent jacket in place prior to getting it to the car.

Also get Protec to put your collar number on the side for a couple of quid extra , they do a good job nice and big and it looks much better that a tippexed number scrawled on the side.

I use the bag primarily as a method of keeping all of my stuff together so I can get it from my locker in the station into my patrol car. One the bag is there it stays there, and acts as my filing system and holdall. So what I need is a good strong bag which keeps its shape as this does, along with the ability to have things taken out and stuffed into its pockets with ease such as PND Holders (more research needed here I feel). I do not wish this to put any one off buying such a piece of kit, as it stands as I have found that there is noting to beat it on the market. I also had a good look around the web found and Protec had and still have the best deal around!

Good

Quick delivery, the company takes care of client, just on opening packing I see presently hi quality product. Definitely gonna buy more in future.<br />

Thanks to Protect Police Supplies Team.

Awesome bag

I use this bag to carry additional SOCO supplies and I also take it on duty when I'm working as a Special Constable.

I have sooo much stuff in this bag it is unbelievable. Swabs, poly pots, goggles, glass gloves, rubber gloves, leather gloves, latex gloves (I like gloves) waterproof trousers, scene suits, shoe covers, two flourescent jackets, knee pads, road chalk, fingerprint elimination forms, FSS scenes of crime handbook, two maps, evidence bags, police tape, hazard tape, needle tubes, knife tubes, fire mask, dust masks, tyre tread depth indicator, Maglite, pens and more!

Its easy to carry and takes up little room.

Ideal for any job within the police.

M24

Fantastic bag,have had it for two years and still as sturdy and secure as when i bought it. I recommend this bag to every student officer i tutor!

M24 hold-all

Pretty good bag, lots of pockets for everything, couple on the front I'm not sure about, the one on the top right seems to be two small pockets about the size of a CS cannister but it's actually one pocket with two straps for some reason. The main problem is that a helmet doesn't really fit, so if you want one for that you might need the M25, but it should hold everything else, it's well made and looks the part.

patrol bag

Surprisingly tough bag with a bit of weight. Good space and does what it says on the tin!

(M24) Police Patrol Bag

fantastic bag hold all of my police folders coat and hat

Show all