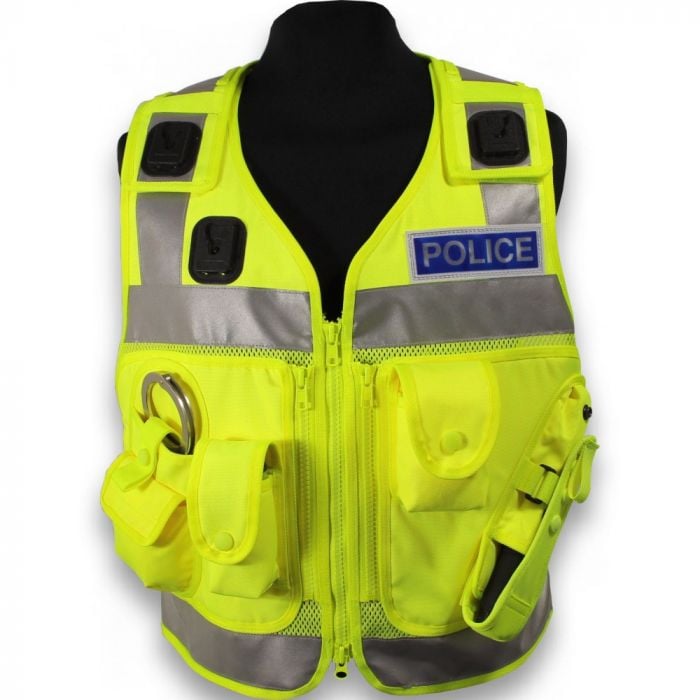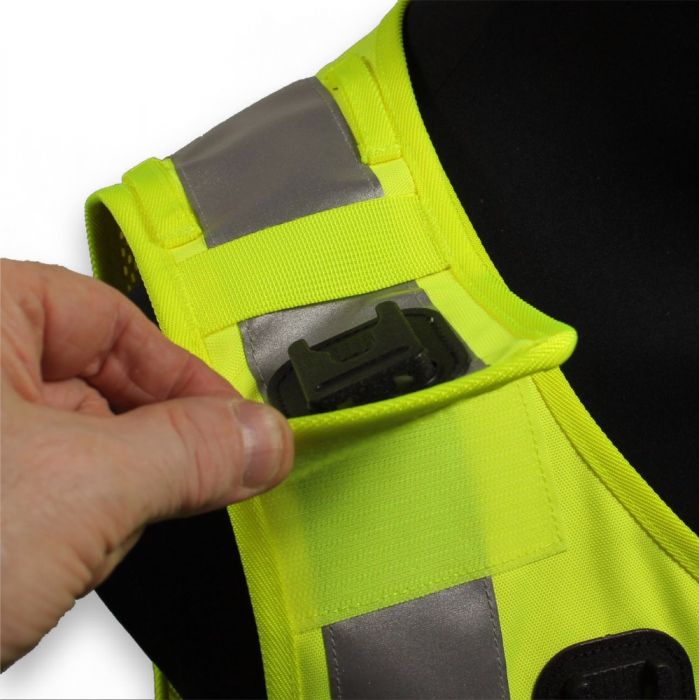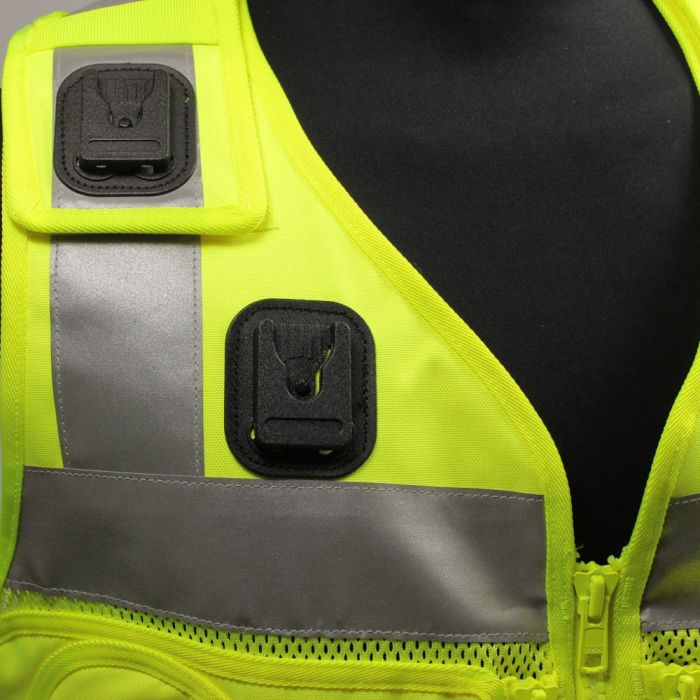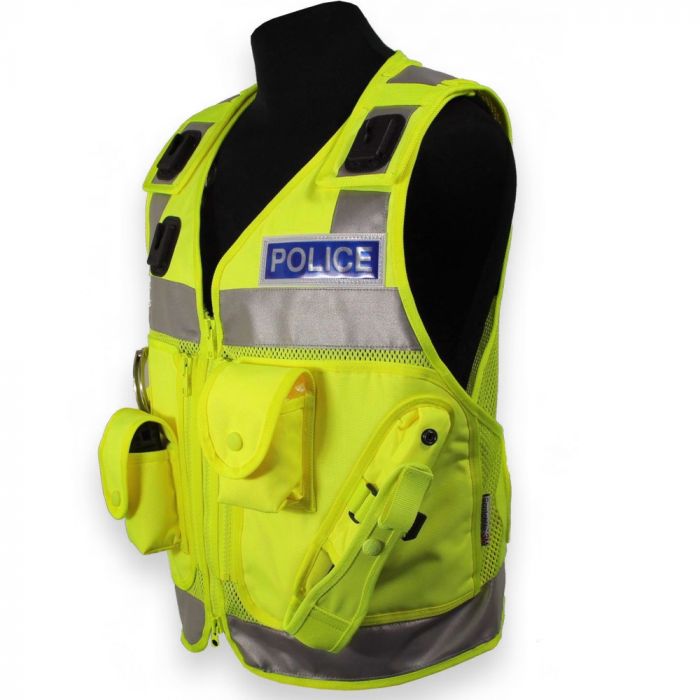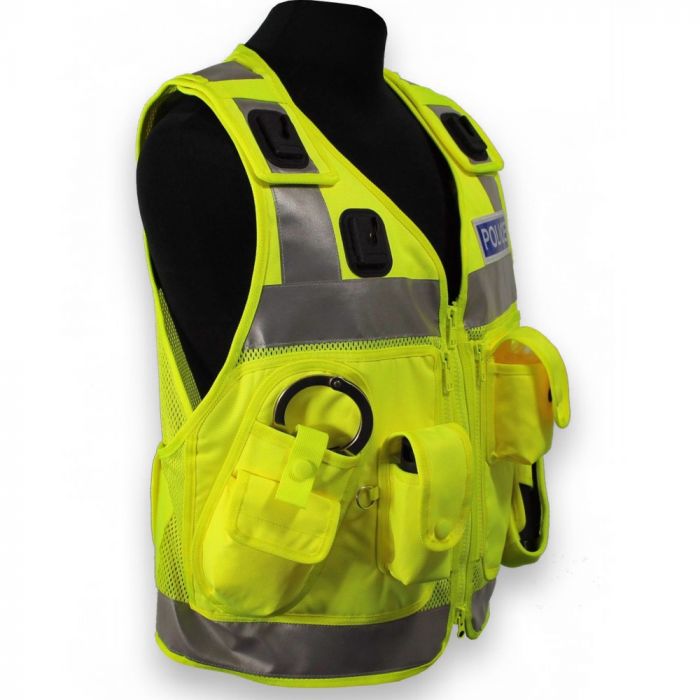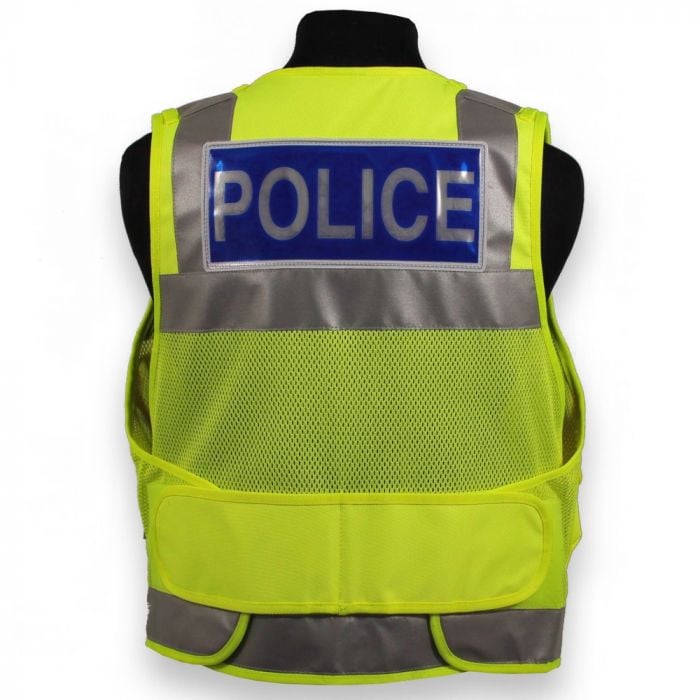 Hi-Vis Duty Vest with Klick Fast Docks
SKU TVHVN4
Only %1 left
In stock
The TVHVN4 is our latest design in hi-vis equipment vests fot the police and security. Now complete with... - Read More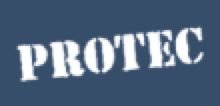 Details
The TVHVN4 is our latest design in hi-vis equipment vests fot the police and security. Now complete with draw down baton holder for quicker deployment, it is made from hi-visiblity polyester material and technically advanced military mesh. Secure velcro adjustment at the sides of the body ensure a secure and comfortable fit. Designed to be worn with or without body armour.
With a selection of Badge options including Security, Dog Handler and Clear Badge holder, if no badges are required.
Handcuffs with utility pocket.
Tetra airwave radio holders on both shoulders.
Spray Holder fits with or without Peter Jones Unit, also has D ring for lanyard.
Downward draw baton holder for quick deployment.
Secure Velcro adjustment for maximum comfort.
Small pouch suitable for limb restraints.
Two zipped pockets behind equipment panels that are suitable for notebooks, pens, small torches, etc.
Right-hand Left Hand set up available as a special order with additional cost P.O.A.
Genuine Klick Fast docks
Select Badge required or Clear badge holders for your own badge
Sizes: Small 28-38 inch, Medium 36-46 inch, Large 46-50 inch, XL to XXL 50-56"
Not Suitable for side handle batons - Please use the drop down menu.
Police badges available with Police Heddlu
Restricted product: force and collar number required.
If ordered with Security Badges type Security where the collar number is required or Dog Handler - For Clear Badge holder type Clear.
Designed for Professionals by Professionals
More Information
| | |
| --- | --- |
| Weight | 0.000000 |
| Colour | High-Vis Yellow |
| Brands | Protec |
| Size Chart | Protec Vest Size Chart |
Reviews
4
Customers reviews
Mason

Hi-Vis Duty Vest with Klick Fast Docks

This is by far the best Hi-Vis load bearing vest I have had made for me. Thank you to the sales team for sewing the Peter jones CS holder on for me and I look forward to buying from you again soon!

Anonymous

Hi-Vis Duty Vest with Klick Fast Docks

Ordered this vest as a substitute for my duty belt as I prefer to carry the weight of my patrol kit on my shoulders rather than my hips. Having worn it for a few shifts now I would not go back to a belt. The vest itself is tough and well constructed, heavy duty stitching and pockets placed where they can be easily accessed. Pava, cuffs, fast straps etc fit where they are supposed to and are quickly and easily removed for use. When loaded, the vest is very comfortable and there are no pouches to dig into your back when in a vehicle. Radio and body cam docks are well placed.
However.........The standard issue auto lock baton with Hindi cap is a very tight fit inside the baton holder attached to the vest as standard, so much so that the Velcro attachment for the strap is only just holding. An extended baton strap was required at extra expense which only comes in black and the vest is yellow. It is a small thing but perhaps the baton strap should be longer as standard or available in yellow. Secondly, the image of the vest on the website shows 3 klickfast docks, two on the shoulders and one on the left chest. Mine came with the two shoulder docks only.
All in all however a great product which should last for years (hopefully).

Anonymous

TVHVN4

I am a security officer and bought this product as an alternative to standard hi vis vest. The product is excellent in design and wearability, very lightweight as product is largely mesh design. I understand this product is designed four police services but want to inform the security world, it can be used just as professionally in our industry too. Has enough accessories for my duty requirements. Thank you for the professionallism and quick turaround for my order. WAS READY NEXT DAY.

Anonymous

Excellent

An excellent vest, does the job very well.

It's lightweight, looks professional and the kit is exactly where you want it when you need it. The photo on here doesn't really do it justice.

The product is more mesh than it appears on here which is good for loss of heat and comfort due to it being light.

Better than many other harness type equipment vests I've tried in the past and highly recommended.
Size Chart
Size Chart
| | | | | |
| --- | --- | --- | --- | --- |
| Size | Small | Medium | Large | X-Large |
| Chest Size (in) | 28 - 38 | 36 - 46 | 46 - 50 | 50 - 56 |