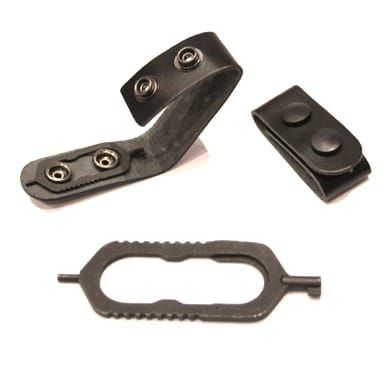 Zak Tool Concealed Handcuff key
SKU SK8
Out of stock
Concealable belt keeper handcuff key The SK8 is a spare concealed handcuff key, subtly held inside a Protec leather... - Read More

You May Also Need

Details
Concealable belt keeper handcuff key
The SK8 is a spare concealed handcuff key, subtly held inside a Protec leather belt keeper. The leather keep is made from high quality 3mm thick real leather so will not look out of place with your regular belt kit. The SK8 key has both the standard handcuff key and the double locking pin incorporated in to the design.
Spec
Includes real leather keep
Steel key includes double locking pin
Pack includes one key and one keeper
More Information
| | |
| --- | --- |
| Weight | 0.030000 |
| Colour | Black |
| Brands | Zak Tool |
| upc | 819673010281 |
Customers reviews
Great get out of jail free card. can conceal this in strategic places. 10/10 very useful.

A high quality item perfect for USA law enforcement and general people who want a key on them in case a bad guy grabs them at home or abroad, as-is.

However, for UK police you will need to get a cheap diamond file from eBay and file part of the metal where the handle meets the stem of the key area because they will NOT fit standard issue TCH rigid/folding rigid cuffs that have an ABS plastic grip on them. I would caution against modifying your cuffs as the previous reviewer stated in case such modification could be used against you by a guy you arrest who claims they were cut/injured or friction-rubbed up by your alterations or some weird thing. If you only alter the key, not only is that a non-issue but it will work for you when unlocking your colleagues cuffs.

Nice idea

Good product, good materials and a good idea. However the key shaft is quite short and needs some of the plastic shaved off the cuff, this is fine until you come to unlock someone else's cuffs :)

Should be standard issue!

This is a great key and it solves the problem of what to do with your key when on duty.

I don't like having my key hanging from a belt while working, it's too close to my groin for comfort and in a struggle I don't want it to injure me. This key however sits neatly inside a belt keeper on your duty belt and only comes out when it's required.

I think these should be standard issue with all quickcuffs, they're great.