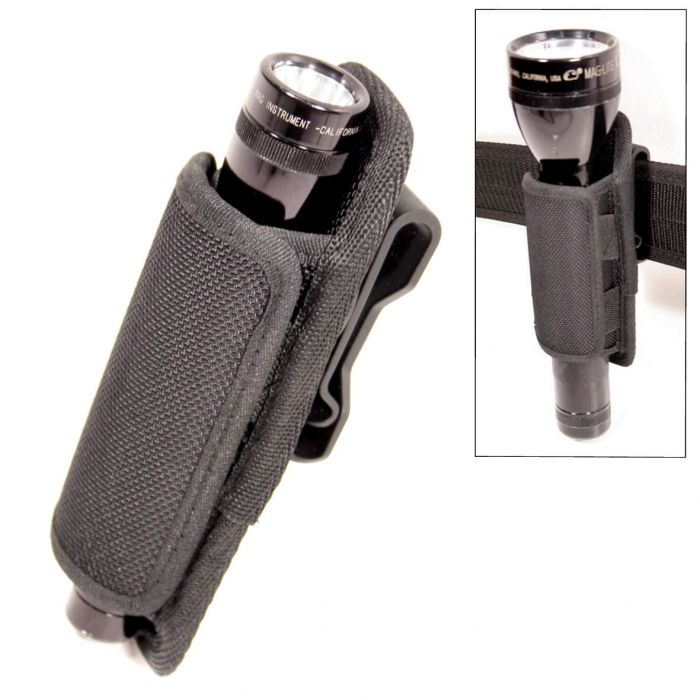 Nite Ize Universal Torch Holder
SKU T4
Out of stock
Nite Ize Universal torch holder. This is truly a case of one fit's all. the Nite Ize torch holder... - Read More

Details
Nite Ize Universal torch holder.
This is truly a case of one fit's all. the Nite Ize torch holder has a moulded shell that expands around whatever torch you put in it. It is made from a tough lightweight polyester material. The unique belt loop system is suitable for all belts up to 50mm wide and can be clipped in to place without removing any other items from your belt. The belt loop also has a 360 degree rotating mechanism, this is perfect for tucking larger torches up out of the way when driving or sitting for long periods of time.
Spec
Expands to fit most AA, AAA, C, and D cell torches
Strong 360 degree rotating belt clip, allows you to position the light whilst on a belt
Fits belts up to 60mm
Construction from rugged ballistic material
Suitable for SOCO Crime-lite and Crime-lite 2
More Information
| | |
| --- | --- |
| Weight | 0.090000 |
| Colour | Black |
| Brands | Peli UK |
| upc | 94664008748 |
Customers reviews
Rob

Nite Ize Universal Torch Holder

I've used mine for about 3 years now and its functionally as good as new. I notice the rotating function allows it to move out of the way during ground restraints, so it doesn't dig into anybody. Its very convenient and intelligently designed, can't fault it.

Stephen Gulia

Great Torch Holder

An excellent Torch Holder, I found it very Useful during road-checks, with it's 360 degree rotating belt clip allows your hand to be free for writing or for DEFENDING yourself! To sum it up...Perfect Torch Holder!!

Ryan

Ideal holder for Crimelite

I was recently issued a Crimelite manufactured torch holder for my Crimelite 2 and it was huge, bulky and pointless.

I bought this torch holder and it is a perfect fit for the Crimelite and Crimelite 2. I was always putting my torch down somewhere and forgetting it! This allows me to keep hold of the Lite and even use it whilst it's attached to my belt!

Great stuff.

Anonymous

excellent

excellent bit of kit. Adapts really well to different types of torches so there is no need to carry mulitiple holders for bigger or smaller torches. Carry different torches depending on the circs with convenience.