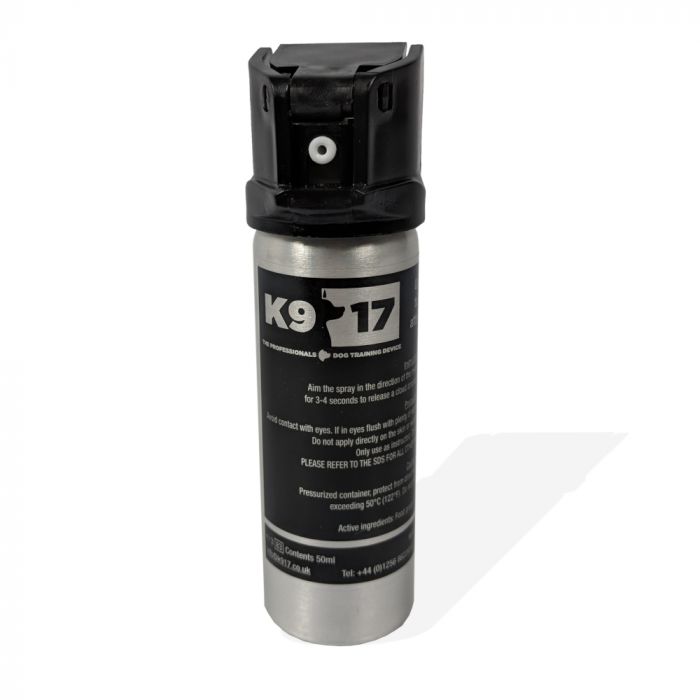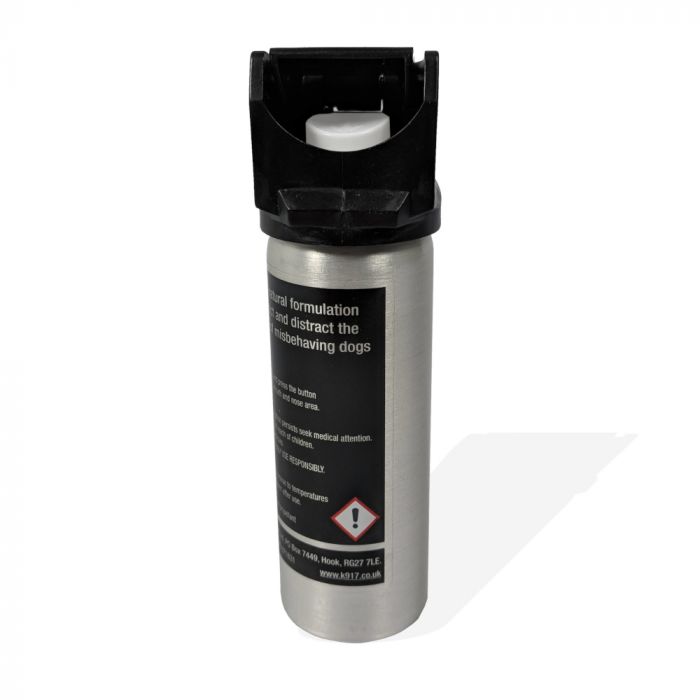 SKU SP7
In stock
Every year over 6000 people are treated in hospitals across the UK for dog bites, many of these incidents... - Read More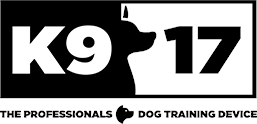 You May Also Need

Details
Every year over 6000 people are treated in hospitals across the UK for dog bites, many of these incidents are involving people at work performing day to day duties that have not been given the protection they need, that protection is now here.
Formerly known as BiteBack, K917 is a deterrent spray for formulated specifically canines, it comes in an compact 50ml hand held aerosol spray. It works by creating a vapour cloud around the dog's muzzle, masking the air with the smell and taste of their special formulation. The unique blend of natural oils deters the dog's natural impulse to bite. Most importantly unlike traditional pepper sprays which can prove lethal to dogs, K917 has absolutely no lasting effects and typically after 10 -20 minutes the dog will make a full recovery.
Its important to remember that dogs can be victims too, excess agression can be the result of neglect, ill treatment or simply poor training.
For safely storing your K917 spray please see our SP3 spray holder, this comes complete with an elastic lanyard to prevent loss and make sure the spray is always at your side when its needed most.
Tech spec:
100% natural ingredients
50ml aerosol spray cannister
Much safer than traditional pepper sprays
Will subdue a dog for between 10 - 20 minutes
Additional Information
K917 sprays should only ever be used once and then replaced with a new unused spray, no matter how little of the contents you believe has been deployed.
This is the only way to ensure that there is sufficient protection for any future incident.
More Information
| | |
| --- | --- |
| Weight | 0.150000 |
| Brands | K917 |
| upc | 5060268022621 |
Who Bought This Also Bought
Customers reviews

K917 Dog Deterrent Spray

I've had two of these and they do work however, once sprayed thats it done. It's actually on the can its meant to be used once so you could spray a little and then have 3/4 full but it wont work any more. Effective but unfortunately the ability to use it more than once makes it pricey and brings the rating down.

K917 Dog Deterrent Spray

1. Useless in any sort of breeze, goes everywhere. 2. When being accosted by someone's dog, difficult to aim because of adrenaline rush 3. Haven't found dogs run away from it. 4. For a while, it didn't spray at all, although there's plenty of fluid in it. Now the weather's better, it's started working again. Was it the cold weather?
I'm jealous of the reviewer who says he sprays all dogs to great effect. Other than a piece of prickly tree branch, I can't find anything to stop dogs...

K917 Dog Deterrent Spray

Seems to do the trick, stopped our dogs fighting fairly sharpish which is normally more difficult. Can confirm it's also incredibly effective on humans, rubbed my eyes after I'd sprayed it and nearly stevie wonderd myself.

K917 Dog Deterrent Spray

I always carry one when out with my two cockapoos, two evenings ago one of my dogs who is very friendly and submissive was attacked by the throat by a patter dale terrier. It was horrendous and my dog was crying as my husband was desperately trying to remove the others dog's jaw from his neck. Thank God for this spray, the aggressive dog let go immediately and thankfully my dog had only superficial puncture wounds as did my husband who got his thumb stuck in the agressive dogs mouth. I won't take them anywhere without it!

K917 Dog Deterrent Spray

this spray is amazing, I walk down the street and spray any dog that comes near me, aggressive or not, ensuring they stay away.

K917 Dog Deterrent Spray

Yes I love this product I have a problem with cat next door.He is always coming in my yard to catch the birds and kill them.I got 5 cans from work for free.I caught him hiding behind the bamboo waiting on birds. I gave a spray in his direction I never saw a cat run so fast. When he comes in front of property he runs bye.I believe I solved the problem water didn't work or plastic spikes. lol

K917 Dog Deterrent Spray

I've got a bitch that attacks one of my other dogs over the slightest of things it was getting really out of hand I couldn't get them apart more than once, I bought a can of this and had doubts it would work, how wrong was I this stuff is amazing it really does work within seconds I'm no longer not wanting to come home after work if nobody else is home

Every dog owner must have this!

K917 Dog Deterrent Spray

I have been carrying this spray around for over a year since my Labrador was viciously attacked by a Saluki. I was so traumatised by the incident as was my dog, it goes without saying, I was telling my postie about it as we shared dog attack stories. My postie showed me the spray he carries. I hopped online and ordered K917 and used it for the first time today on a massive black German Shepherd that went right for the jugular. The spray worked immediately and gave its owner a chance to control his dog while we made our swift exit. It just instantly de-escalated what had been a dangerous situation. The owner was furious with me. I told him "It's what posties use. It's safe. And hey... it worked, right?"

K917 Dog Deterrent Spray

I have to large intact dogs who are often set upon by the neutered males (a common occurrence people are unaware of….. Intact males ooze testosterone and the neutered male will feel threatened and often attack). Since purchasing this product I've felt so much more relaxed knowing it's in my pocket to use if required. Yesterday my older adult intact large dog was being jumped on aggressively by a large standard poodle off lead ….. Twice I asked the owner to call his dog away and twice I was ignored. I then sprayed the K9 at the attacking dog and he instantly just turned and walked off. No ill effect just walked off. I have no doubt I will need to use the product again sadly as this nation has now a new generation of multiple dog owners thanks to the "lockdown purchases"……. And amongst those there will be many who have no control of their new dog !! Highly recommend everyone carries one of these.

K917 Dog Deterrent Spray

I highly recommend this spray! I was having problems with my (30Kg) Labrador puppy, who thought it fun to lunge at me when out on solo walks with her, biting my hands and arms. The play had gotten out of hand to the point that I could no longer walk her by myself. My son told me about this spray and it has been a true Godsend: I have only had to use it once, it stopped my dog's bad behaviour instantly - and now I only have to show her the canister before we go out for her to behave

K917 Dog Deterrent Spray

Excellent, has helped with my dogs lunging but the postage and s SO HIGH ! I am having to look for an alternative with cheaper postage as being a pensioner it works out expensive all in

K917 Dog Deterrent Spray

Very good to keep my dogs safe.
Especially when dog walking .
Most humane treatment to keep safe and in control .

K917 Dog Deterrent Spray

We have a small dog and a big bull mastiff they fell out over food the small dog had three layers of stitches inside his neck and seven stitches on the outside.
We need your products for any future events that might take place also for dog walking.Regards R Lloyd

K917 Dog Deterrent Spray

Our dog was attacked a few months ago and myself and my husband were left feeling so helpless (my husband eventually stepped in and grabbed the other dogs collar and pulled him away, which is dangerous). After this we had a look online to see what to do in a dog attack and found this spray. We have carried it around for months unused, until this evening…. 2 large dogs tried to attack our Labrador at once, trying to bite his neck. Within seconds of spraying this spray (I was skeptical at first), they stopped and ran away!! When one of them tried to come back for round 2, I sprayed again in his face and he backed straight off.
This is such a useful defence tool to protect our beloved pets against those that are not in control of their own dogs! Couldn't recommend highly enough and worth Every penny!


K917 Dog Deterrent Spray

Very highly recommend this spray, took 2 sprays to stop my staffs being attacked by 2 close bullies, without this I absolutely dread to think what the outcome would have been. Highly highly recommend.

K917 Dog Deterrent Spray

I bought this after witnessing a dog fight that drew blood. Hoped I'd never need it bu unfortunately had to use this the other day when my lab was attacked by a great dane. Best £20 ever spent as it stopped the attack quickly. Both dogs fine after but mine escaped more serious damage. I dread to think what would have happened if I wasn't prepared with this spray to hand. A must have.

K917 Dog Deterrent Spray

I used this on a huge reactive caucasian shepherd as it attacked a german shepherd puppy. The spray stopped the caucasian in its tracks, it dropped to the ground as soon as the spray hit. The spray had an immdiate effect on its eyes and nose - however within two minutes it was totally fine and its behaviour has been good ever since - so not only ended the immediate sitiation but appears to have corrected unwanted behaviour. highly recommended for all dog owners.

K917 Dog Deterrent Spray

Our poor dog was badly attacked by an out of control Great Dane. Very out of character for them, but this spray gives peace of mind should it ever happen again.

K917 Dog Deterrent Spray

Purchased in spring 2019 on bringing new puppy home. Always carry it with me on walks, hoping I'd never actually have to use it. But a couple of months ago a large dog broke free from his lead. Owner lost complete control. His dog went to attack ours and without this spray the outcome could have been completely different and I truly believe it saved our dog. One quick spray and offending dog backed right off allowing owner to gain control. I'd advise all dog owners to have a can regardless of your occupancy. I wouldn't walk without it and would recommend it to everyone

I am a true dog lover and have three dogs myself. After years of being in fear of a neighbours dogs which are left to roam outside I purchased this spray on the recommendation of a Police Dog handler . I bought the holster and have it attached to my dog treat bag so it is always with me. Had to use it last week , sprayed it directly into the face of the dog that was about to attack me , a Staffy, worked instantly. Stopped the dog immediately and gave me the opportunity to get home safely . Highly effective and definitely recommend.

I have used this product ! Have been attacked before out walking my dog (14 stitches later), so bought this a year ago... totally works.. well done!!!! Subdued two dogs that the owner had no control over .. worked immediately.. dogs unharmed .... every dog walker should carry one along with poo bags. Cant recommend this more highly!

My wife helped me deliver parcels a few weeks back. She was attacked viciously and now has PTSD and cannot come with me. I was new in my job 3 weeks, never knew the perils of deliveries. After my wife was attacked I started looking at deterrents. I personally love animals and understand they are what they are but seeing and witnessing what happened to my wife made me take measures to defend oneself while out at work. I bought this item and actually ended up using it tonight against an aggressive dog. Trying to keep it short.... I knocked on door and heard a bark... garden distance.... dog charged.... sprayed... it backed off. it worked! will defo buy again, not a scam it worked for me. whats 25 quid against a serious dog attack.

Show all