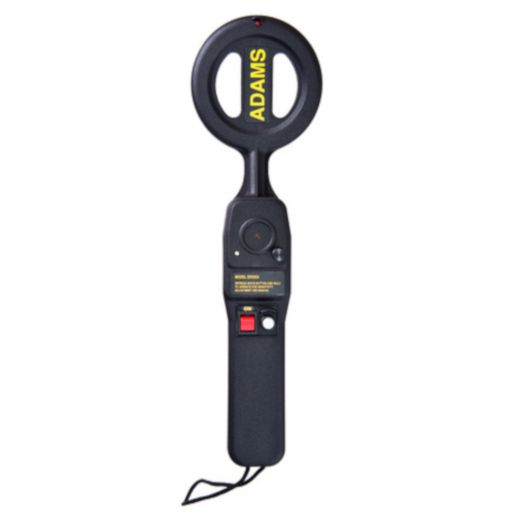 Adams ER3000 Deep Tissue Metal Detector
SKU ER3000
5-7 Days for Dispatch
Adams model ER3000 Is one of the most successful super high sensitivity metal detectors we have produced to... - Read More

You May Also Need
Details
Adams model ER3000 Is one of the most successful super high sensitivity metal detectors we have produced to date. It has been specifically designed for the detection and location of very small or even tiny fragments of metal, whether it be on and around the body or buried deep within the body tissue itself. 
This further development in high sensitivity metal detector technology has established a new level of performance, giving the user the ability to detect large or even the tiniest metal objects that are still undetectable with a standard airport style hand wand. 
ER3000 has the ability to detect metal fragments that are concealed or even buried deep within the skin tissue, as well as clothing and apparel. 
Requires a single 9V battery for operation, not included in sale but can be purchased separately.
Spec
Dimensions: Length: 360mm. Width (probe end): 105mm  - Body 55mm. Height: 35mm
Weight: 300 grams including battery
Operating Temperatures: -20°C to +65°C
Dust and moisture protection: Conforms to IP64 (IEC 529)
Tuning: Fully Automatic
Operating Frequency: 20Khz 
Humidity: 98%
Battery Life: Standard 9Volt Alkaline MN1604): 360 hours. Optional Rechargeable NiMh: 100 Hours
Construction: Ultra rugged polycarbonate/nylon injection molded case construction
Alarm Indicator: Simultaneous Audio Beeper/Visual high intensity LED
Power Operation – On/Off: Minimum pressure pushbutton periodical switch operation.  Red rocker switch. "On" in forward position, "Off" in back position.
Sensitivity: Super high sensitivity metal detector with operator adjustable turbo control – better than 0.03 grams
Battery Management system: Yellow LED light warning for low battery.
Battery Inserted Cartridge style (no wires)
Target Size Discrimination (at constant sweep): Short Alarm = small target, Long Alarm = large target
Tested and approved to EEC EN5008-1 Table 1; EN50082-1 Table 1:1.1. Radiated Emissions
Conforms to international standards: CE mark lEC, NILEC, FCC, FAA. Medically tested and approved 
No risk to persons with pacemakers or pregnant Women. No interference to magnetic recorded material
Detects Ferrous and Non-ferrous metals.
Warranty: 36 months Limited warranty​
More Information
| | |
| --- | --- |
| Custom Stock Status | 5-7 Days for Dispatch |
| Weight | 0.850000 |
| length | 20 |
| Brands | Adams |