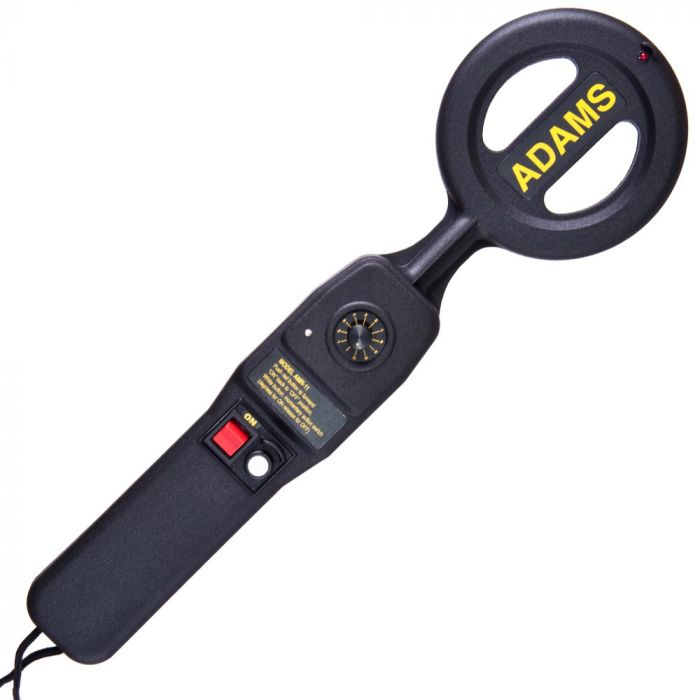 Adams AMR-11 Metal Detector
SKU AMR-11
5-7 Days for Dispatch
Adams Electronics is proud to announce an even further development in this particular field of super-high sensitivity sensor... - Read More

You May Also Need
Details
Adams Electronics is proud to announce an even further development in this particular field of super-high sensitivity sensor technology, the NEW! Model AMR-11.

The main features of this brand new metal detector are the eleven finely tuned and individually programmable sensitivity settings that give the operator the ability to select the exact sensitivity setting required for the detection of a specifically sized metal target and the ability to pre-program the detector to the same exact sensitivity setting each time the detector is used even if used by multiple operators.

The AMR-11 also features the ability to digitally re-calibrate itself to compensate for any high amounts of environmental static metal that might be present during a search screening procedure, yet still being able to detect even the smallest amount of metal through skin and bone tissue with pin-point accuracy.
 
Requires a single 9V battery for operation, not included in sale but can be purchased separately.
Spec
Dimensions: Length: 360mm (14.17"). Width (probe end): 105mm - Body 55mm (2.00") Height: 35mm (1.18")
Weight: 262grms (9.2oz) including battery.
Operating Temperatures: -20C (68F) to +65C (150F)
Dust and moisture protection: Conforms to IP64 (IEC 529)
Sensitivity: 11 position programmable sensitivity settings - detection capability target size (Nilec 602.02): very small target - small target - medium target - large sized target.
Operating Frequency: 20Khz
Humidity: 98%
Battery Life: Standard 9 Volt Alkaline MN1604): 600 hours. Optional Rechargeable NiMh: 80 Hours
Construction: Ultra rugged polycarbonate/nylon injection molded case construction.
Alarm Indicators: Simultaneous Audio Beeper/Visual high intensity Red LED.
Battery Low: High intensity Yellow LED illuminates when battery needs to be changed or charged
Battery Inserted Cartridge style (no wires)
Target Size Discrimination (at constant sweep): Short Alarm = small target - Long Alarm= large target
Controls: Power Switch: Red rocker switch: power On/Power Off - White push button momentary On/Off button
Tested and approved to EEC EN5008-1 Table 1. EN50082-1 Table 1:1.1 Radiated Emissions: Conforms to international standards: CE mark IEC, NILEC, FCC, FAA. Medically tested and approved
No risk to persons with pacemakers or pregnant Women. No interference to magnetic recorded material.
Warranty: 36 months Limited warranty
More Information
| | |
| --- | --- |
| Custom Stock Status | 5-7 Days for Dispatch |
| Weight | 1.000000 |
| Brands | Adams |
| upc | 5056283321559 |