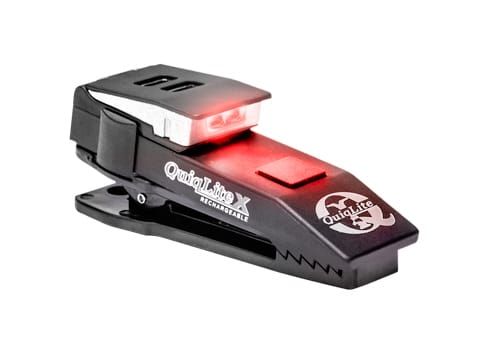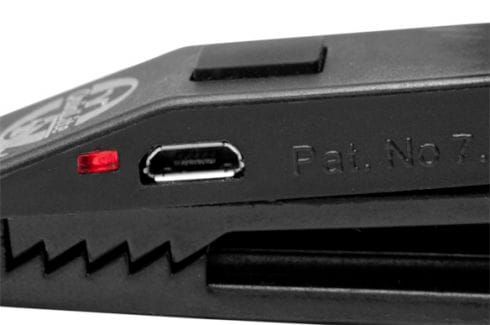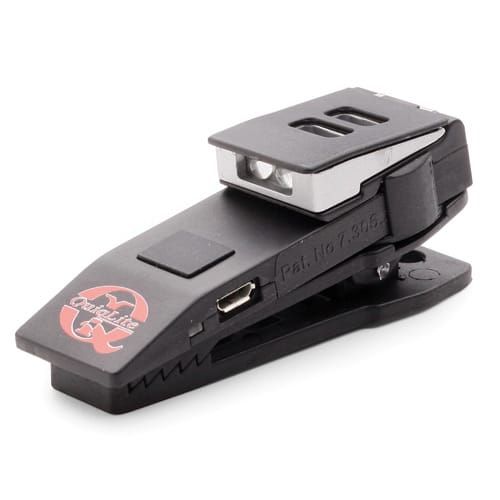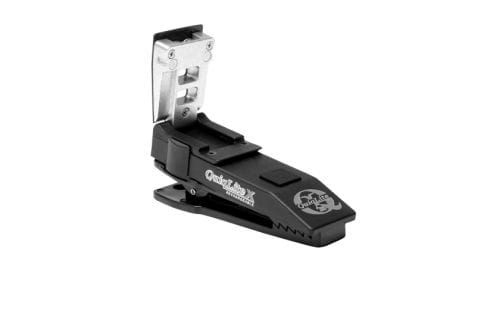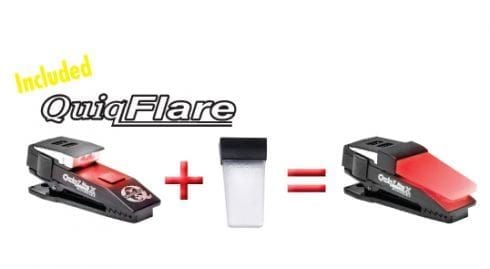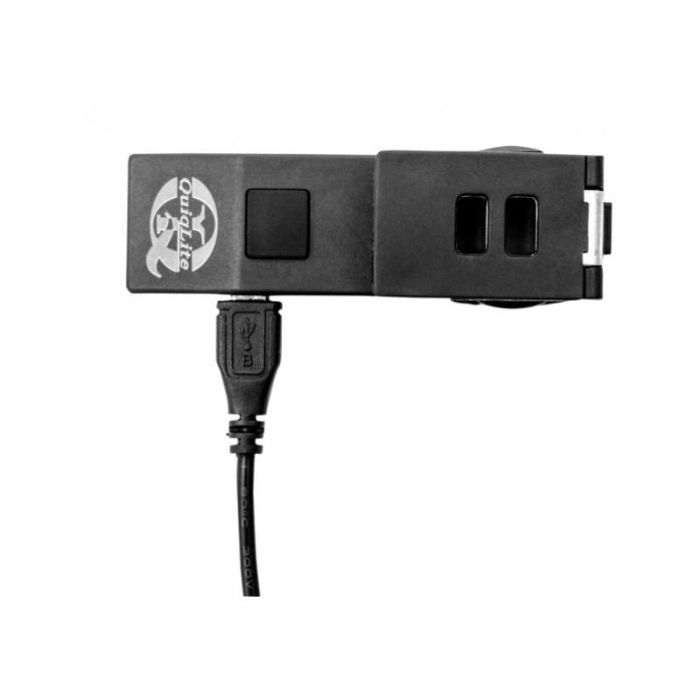 Quiqlite X Dual Red - White LED
SKU Quiqlite-X-Red-White
Out of stock
echargeable - QuiqLiteX Red/White LED (20 up to 75 Lumens) With Free QuiqFlare attachment Visible from over a mile... - Read More

Details
echargeable - QuiqLiteX Red/White LED (20 up to 75 Lumens)
With Free QuiqFlare attachment Visible from over a mile away
Description:
QuiqLiteX Red/White Tactical (20 upto 75 lumens 4 modes)
Red/White L.E.D. configuration is designed for tactical light applications when your night vision needs to be preserved and your position needs to be concealed. The white L.E.D. is used for normal reading and writing when the amount of light output is not a concern. QuiqLiteX tactical activates at 20 lumens to help preserve your night vision. The white L.E.D. can boost up to 75 lumens on demand with the push of the X boost button (located on the top of the product). QuiqLiteX is equipped with a 10 minute auto-off battery saving timer and
continuous Safety Strobe.Now includes QuiqFlare attachment, making you visible from
over 1.5 miles away!
Features
USB Rechargeable lithium battery
4 modes
Super-Bright Dual LEDs20-75 lumens
Power boost X button
Dual swith technology
Independent LED acitvation
Anti-glare visor
10 minute auto-off timer
160 degree adjustable light arm
360 Degree rotating removeable magnetic clip
Weather resistant nylon housing
Safety Strobe
QuiqFlare attachment Now Included!
Operation:
1st push activates single Red L.E.D. (10 minute auto-off timer).
2nd push within 2 seconds of 1st push turns off the red LED and turns on
white L.E.D. (10 minute auto-off timer).
3rd push turns all L.E.D.s off.
Tactical Mode:
If 2nd push is delayed past 2 seconds of 1st push, QuiqLiteX will auto shift into
Tactical Mode turning off the Red LED without activating the White LED.
X Super Bright Mode:
1st push of X button located on the top of the product will increase brightness from
20 up to 75 lumens(white LED)
2nd push will dim light back down to 20 lumens.
Strobe Function:
Press & hold main power button down for 2 seconds to activate Safety Strobe
(no auto-off timer).
Press button again to turn off strobe.
Specifications:
Modes: 4
High Power white LED: White LED: 75 Lumens/5.0 hours
Low Power white: White LED: 20 Lumens/15 hours
Red LED: 20 Lumens/5.0 hours
Strobe: 75 lumens/5 hours
Length: 3 inches
Width: 0.90 inches
Weight w/batteries &Clip: 1.4 oz.
Battery: 1 QuiqLiteX lithium (included) Part#052042
Charge time: 2.5 hours or less
Housing: Nylon/Aluminum
KlickFast/Airwaves

All of QuiqLite's products are compatible with the KlickFast system. The QuiqClip securely fits in to the KlickFast Torch Stud.

Purchase a KlickFast Torch Stud for KlickFast/Airwaves docks.
Secure KlickFast Torch Stud to the QuiqClip of any QuiqLite product.
QuiqLite Pro or QuiqLite X can be securely fixed to the KlickFast/Airwaves Dock on tactical vest or belts etc and maintain full adjustabilty.
More Information
| | |
| --- | --- |
| Weight | 0.100000 |
| Brands | QuiqLite |
Reviews