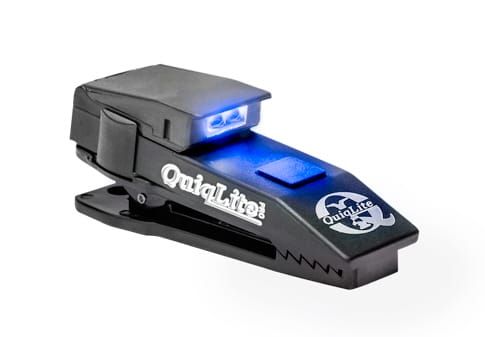 QuiqLite-Pro Blue - White LED
SKU Quiqlite-Pro-Blue
Out of stock
QuiqLitePro Blue/White Tactical LED (10 lumens 3 modes) With Free QuiqFlare attachment Visible from over a mile away Description: QuiqLitePro Tactical... - Read More

You May Also Need
Details
QuiqLitePro Blue/White Tactical LED (10 lumens 3 modes)
With Free QuiqFlare attachment Visible from over a mile away
Description:
QuiqLitePro Tactical Blue/White L.E.D. configuration is designed for tactical light applications without having to hold a flashlight in your hands. The first push of the On/Off button activates the red L.E.D. at 10 lumens to help preserve your night vision and keep your keep your position concealed. Pro is also equipped with a 10 lumen white L.E.D. used for normal reading and writing when the amount of light output is not a concern. Pro is equipped with a 10 minute auto-off battery saving timer and continual Safety Stobe for situations when you need to be seen. Pro now includes the New "QuiqFlare" personal safety flare attachment!
Features:
3 modes
Super-Bright Dual LEDs
10 lumens
Anti-glare visor
Independent LED acitvation
10 minute auto-off timer
160 degree adjustable LED light arm
360 Degree removeable magnetic QuiqClip
Weather resistant housing
Safety Strobe
QuiqFlare attachment!
Operation:
1st push activates single Blue L.E.D. (10 minute auto-off timer).
2nd push within 2 seconds of 1st push turns off the blue LED and turns onwhite L.E.D. (10 minute auto-off timer).
3rd push turns all L.E.D.s off.
Tactical Mode:
If 2nd push is delayed past 2 seconds of 1st push, QuiqLiteX will auto shift intoTactical Mode turning off the blue LED without activating the White LED.
Strobe Function:
Press & hold main power button down for 2 seconds to activate Safety Strobe(no auto off timer)
Press button again to turn off strobe.
Specifictions:
White LED: 10 Lumens/40 hours
Blue LED: 10 Lumens/40 hours
Strobe: 10 lumens/40 hours
Length: 3 inches
Width: 0.90 inches
Weight w/batteries &Clip: 1.0 oz.
Batteries: (2) QuiqLiteX lithium CR2032 (included)
Housing: Nylon
KlickFast/Airwaves
All of QuiqLite's products are compatible with the KlickFast system. The QuiqClip securely fits in to the KlickFast Torch Stud.
Purchase a KlickFast Torch Stud for KlickFast/Airwaves docks.
Secure KlickFast Torch Stud to the QuiqClip of any QuiqLite product.
QuiqLite Pro or QuiqLite X can be securely fixed to the KlickFast/Airwaves Dock on tactical vest or belts etc and maintain full adjustabilty.
More Information
| | |
| --- | --- |
| Weight | 0.100000 |
| Brands | QuiqLite |