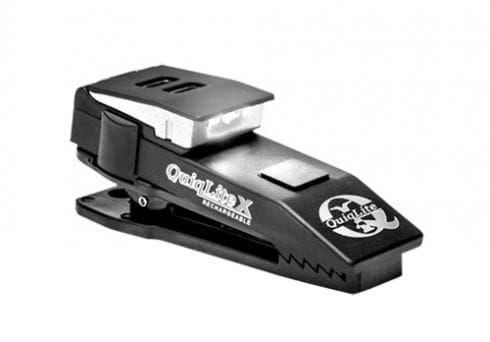 Quiqlite X Dual White LED

SKU Quiqlite-X-White
Out of stock
Rechargeable - QuiqLiteX Dual White LED (20-150 lumens 5 modes) With Free QuiqFlare attachment Visible from over a mile away Dual White... - Read More
Details
Rechargeable - QuiqLiteX Dual White LED (20-150 lumens 5 modes)
With Free QuiqFlare attachment Visible from over a mile away
Dual White L.E.D. configuration is designed for normal reading, writing and maneuvering in the dark without having to hold a flashlight in your hands. QuiqLiteX Dual White allows for single or dual L.E.D. activation for situations when extra light is required. The first push of the On/Off button will activate a signle white LED at 20 lumens to help preserve your night vision. If more light is required, simply push the X boost button to increase up to 75 lumens per L.E.D. QuiqLiteX is equipped with a 10 minute auto-off battery saving timer and continuous Safety Strobe. Now includeds QuiqFlare attachment, making you visible from over 1.5 miles away!
Features
USB Rechargeable lithium battery
5 modes
Super-Bright Dual LEDs
20-150 lumens
Power boost X button
Dual swith technology
Independent LED acitvation
Anti-glare visor
10 minute auto-off timer
180 degree adjustable light arm
360 Degree rotating removeable magnetic clip
Weather resistant nylon housing
Safety Strobe
QuiqFlare Now included!
Operation:
1st push activates single white L.E.D. (10 minute auto- off timer)
2nd push activates both white L.E.D.s together (10 minute auto-off timer)
3rd push turns all L.E.D.s off.
X Super Bright Mode:
1st push of X button located on the top of the product will increase brightness from 20 up to 75 lumens per L.E.D
2nd push will dim light back down to 20 lumens per L.E.D.
Strobe Function:
Press & hold main power button down for 2 seconds to activate Safety Strobe (no auto-off timer).
Press button again to turn off strobe.
Specifications:
High Power:
Single LED: 75 Lumens : 5 hours
Dual LED: 150 Lumens : 2.5 hours
Low Power white:
Single LED: 20 Lumens :30 hours
Dual LED: 40 Lumens :15 hours
Strobe: 75 lumens :5 hours
Length: 3 inches
Width: 0.90 inches
Weight w/batteries &Clip: 1.4 oz.
Battery: 1 QuiqLiteX lithium (included) Part#052042
Charge time: 2.5 hours or less
Housing: Nylon/Aluminum
KlickFast/Airwaves
All of QuiqLite's products are compatible with the KlickFast system. The QuiqClip securely fits in to the KlickFast Torch Stud.
Purchase a KlickFast Torch Stud for KlickFast/Airwaves docks.
Secure KlickFast Torch Stud to the QuiqClip of any QuiqLite product.
QuiqLite Pro or QuiqLite X can be securely fixed to the KlickFast/Airwaves Dock on tactical vest or belts etc and maintain full adjustabilty.
*Models only for sale to Law Enforcement, Emergency Services & Military
More Information
| | |
| --- | --- |
| Weight | 0.100000 |
| Brands | QuiqLite |
Reviews
1
Customers reviews
A torch enthusiast

This is the one to get! Compared to peli not contest pay the bit extra

For about 5 years now I have wanted someone to bring out a product like this with a strong output.

I was loathed to get a peli vb3 due to the price and the first clip on that Quiqlite brought out was the same price as the peli. I eventually got the peli due to the lifetime guarantee and I must say that they need to put that on there as the things are not indestructible.

On to this light - it's clearly been well researched a easy and reliable operation using 2 swithes and won't come on by accident very easily and has an auto off setting to save your batteries anyway.

This light is bright. Think led lenser focus tech zoomed out and this gives that kind of output on full power and for this size it's what I've been looking for

Examples: illegal rave very dark lots of people needed hands free lighting for searching and moving around the 6 lumens on the peli did not cut it I had to resort to using my regular light leaving me only one hand free. This light will not put me in that situation again.

"Life crisis I'm going to end it all come and find me"

Walking around pitch black woods looking for suicidal people days you wish you had a head torch on you. Again the peli is ok but not sufficient to see more than about 10 metres away. This light will ensure you don't miss what you are looking for and enable you to move more quickly in the dark through difficult terrain.

There are plenty of reasons to but this light - I love the magnetic clip although haven't found a real use for it yet.

The only down side to this I can see is that it's not indestructible although you won't get the common broken head like on the peli I would be concerned climbing over Walls and fences that it would crack or snap if not well placed on your equipment. I would love to see a lifetime warrantee on this product

I'm considering if I still need a light on my belt!